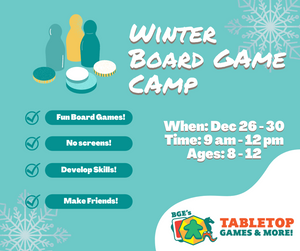 Estimated Arrival: Between Sep 25 and Sep 27. *ETA to USA Only
Join us for a week-long board game camp! This is a week of fun gaming while developing different soft skills without even realizing it! This is also a great opportunity for camp attendees to take some time away from the screens and still have a lot of fun.
Each day we will play various tabletop board games that help to develop different soft skills.
Monday: Collaboration and Team-Building Games

On the first day of the camp, we will play games designed to be cooperative or team-based. Players will develop skills such as sharing, encouraging one another, contributing, and giving and taking.
5-Minute Marvel
Forbidden Island
Escape Room Games like the

 

Unlock!

 

or

 

Exit Games Series
Or other games that require collaboration and team-building 
Tuesday: Strategic Thinking

We will play games designed to develop strategic thinking skills.
Games that may be played today include:
Wednesday: Executive Functioning (Working Memory, Cognitive Flexibility, Self-Regulation)
Executive functioning is an important skill to develop and games are an excellent tool to help with developing this skill.
Games that may be played today include:
Or other games that require executive functioning
Thursday: Creative Thinking and Storytelling
On the first day of the camp, we will play different games that use creative thinking and storytelling. These are exciting games that players can use their imagination and creativity to play.
Games that may be played today include:
Friday: Revisit Games from the Week + Fun day!
On Friday, we will revisit some favorite games from the previous four days. We will also have a fun celebration to end the week!
Each game includes a pre-activity and post-activity to help players solidify the skills developed through play.
Schedule
8:50 - Drop-off begins
9:00 - Warm-up/Check-in activity
9:15 - Game #1
10:30 - Game #2
11:00 - Game #3 or Play Game #1 or #2
12:00 - Camp Ends
12:15 - Last Call for Pick-Ups
Ages: 8 - 12 (recommended)
Dates: July 25th through July 29th
Cost: $89/day or $249/week
Other Important Info
Parents will need to sign a liability waiver if they would like to leave their child here during the camp. Please be sure to drop off and pick up your child within the timeframe allowed.
Three Strikes Rule: Players will have three strikes for following instructions of our staff. The first one is a warning, the second one is a chat with the parent/guardian and/or Dustin (store manager/owner), and the third one is a break from the store.
If you have any questions, feel free to reach out to us through email, phone, or by visiting our store!
---