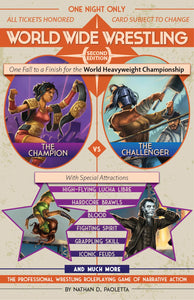 Estimated Arrival: Between Oct 04 and Oct 06. *ETA to USA Only
This is a 260 page color softcover book, 6.675" x 10.25" (graphic novel size). It collects and revises all of the material published for the original World Wide Wrestling and its supplements. It includes:
Easy-to-learn rules for in-ring action, backstage drama and the development of pro wrestling storylines that tie them together.
Tools for players unfamiliar with the genre to participate, while supporting fans in playing out their favorite wrestling tropes.
Support for the Promotion as a character, along with playing out slices of life on the road between performances.
Gimmicks, match stipulations and background information for playing out a variety of wrestling traditions, from Lucha Libre to British Grappling.
Essays and interviews with astute wrestling fans and game designers about the joys of wrestling and how the two forms relate to each other.
… and more!
World Wide Wrestling: Second Edition is suitable for groups of 3-8 players, with one player taking on the MC role of Creative, and the rest playing individual wrestlers who both perform larger-than-life characters in the ring and pursue their own career advancement behind the curtain. In addition to everything you need to play out one-shot Episodes and full Seasons of linked storylines, the game includes variations included for 2-player games, Invasion angles and playing out games with multiple rosters competing to find out who's Promotion will reign supreme!
World Wide Wrestling: Second Edition is Powered by the Apocalypse.
---