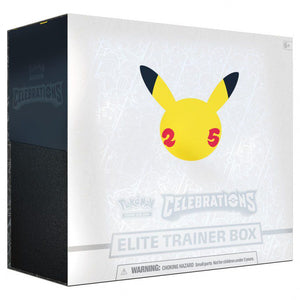 Estimated Arrival: Between Sep 24 and Sep 26. *ETA to USA Only
***There is currently a 1 item limit per customer's shipping address limit on all Pokemon Celebrations products. You are allowed to order only 1 Pokémon Celebrations item. If you order more than 1, your order will be refunded.***  
Be sure to sign up for our email list and register an account as a member at BGE Tabletop to get day of access to Pokémon products at lower prices!
--
POKEMON COLLECTABLE CARD GAME DISCLAIMER - Some minor imperfections of product packaging may occur during shipment. This does not qualify for refunds. We provide excellent packaging for your products. After your order is placed, we may follow up to verify payment details. If there are any issues with the product, you can contact The Pokemon Company directly. Thank you!
Celebrate the greatest moments of Pokemon over 25 years of adventures alongside favorites from Mew and Ho-Oh to Lunala and Zamazenta! An awesome parade of Legendary Pokemon appears, and famous Pokemon from the very beginning return to join your collection you can even find Flying Pikachu and Surfing Pikachu as both Pokemon V and Pokemon VMAX! Join the party with the Pokemon TCG: Celebrations expansion!
***There is currently a 1 item limit per customer's shipping address on all Pokemon Celebrations products. If you order more than 1, your order will be refunded.***
---