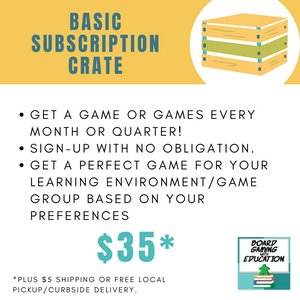 Estimated Arrival: Between Sep 24 and Sep 26. *ETA to USA Only
This is a subscription service where you receive a new board game crate once a month or once a quarter based on your preference. We'll send you at least $35 worth of games based on your subscription preference (monthly/quarterly).
A month after you receive the game, we'll follow up with feedback you receive the game. If you selected the monthly option, your next game crate will be in the mail shortly after completing this survey. If you selected the quarterly option, we'll send your next game crate 60 days after you complete the survey.

Your board game crate is highly curated to your gaming needs and preferences. We work with you to understand various aspects of your gaming group including group size, group experience, group ages, 
We will reach out to you through email in the next 1 - 3 business days to get started on your crate!

There will be a $5 shipping charge for this crate.
What's the difference between the Basic Subscription Crate and the Advanced Subscription Crate?
The only difference is the total price of games we can include in the subscription. If you
do the $35 subscription we can include games equal to at least $35 retail price, whereas, the $59 we can do games equal to at least $59 retail price which allows us to include some other games that we might not normally be able to include in the $35 subscription. If you're interested in not really having much of a restriction on what games we can include (since most of our games are under $59), you can go with this option. Otherwise, there are plenty of games we can include in the $35 option too. Keep in mind at times, we'll include multiple games for either subscription!
---