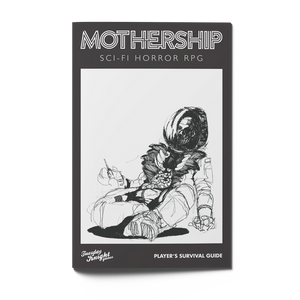 Estimated Arrival: Between Sep 29 and Oct 01. *ETA to USA Only
Join Dustin as he hosts a two-time session of Mothership. We will play on Friday and Saturday night. Sign-up includes both nights.
Date/Time: Friday, October 28th from 7:30 - 10:00 pm and Saturday, October 29th from 7:30 - 10:00 pm
Ages: 13+ (this is a sci-fi horror 

Price: $29.99 - This includes both sessions and your choice of one of our Mothership books including the Player's Survival Guide.
Mothership is a sci-fi horror roleplaying game where you and your crew try to survive in the most inhospitable environment in the universe: outer space! You'll excavate dangerous derelict spacecraft, explore strange unknown worlds, exterminate hostile alien life, and examine the horrors that encroach upon your every move.
Session Name: Coming soon!
More details coming soon!
Characters: We will be spending a few minutes making characters. It is recommended you familiarize yourself with the character creation process. It takes about 5 minutes to make a character, but it is helpful that you know the process before joining the game. Feel free to join our Discord and discuss in the Mothership channel: https://discord.gg/KYPEFHttrE
---