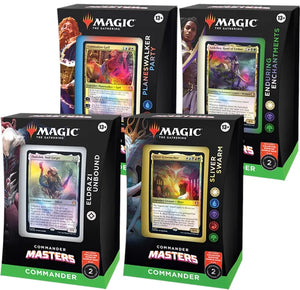 Estimated Arrival: Between Oct 05 and Oct 07. *ETA to USA Only
Choose your deck in the dropdown menu.
This item is set to release on 8/4/23. There is a one-item limit per customer across the whole set. For example, you can only buy one draft booster box and not a set booster box or vice-versa. If more than one item is ordered, you run the risk of having your order canceled.
Unfornately, with this set as such a high price point and as a new-smaller store, we had to limit the amount of product we were able to order for this set.
| | |
| --- | --- |
| Set: | Commander Masters |
| Release Date: | 2023-08-04 |
Each Commander Masters Commander Deck set includes 1 ready-to-play deck of 100 Magic cards (2 Traditional Foil Legendary Creature cards, 98 nonfoil cards), a 2-card Collector Booster Sample Pack, 1 foil-etched Display Commander (a thick cardstock copy of the commander card with foil etched into the card's border and art), 10 double-sided tokens, 1 deck box (can hold 100 sleeved cards), 1 Life Wheel, 1 strategy insert, and 1 reference card.

Contents:
• Powerful right out of the box—Take your Commander game to the next level with a high-powered, ready-to-play deck
• Play with Commander's greatest hits—Turn heads with a deck stacked with reprints of some of the greatest cards to grace Magic's most popular format
• Introduces 10 Commander cards—Each Commander deck also introduces 10 never-before-seen Magic: The Gathering cards
• Collect special treatment cards—Each deck comes with a 2-card Collector Booster Sample Pack containing 2 special treatment cards (1 Rare and 1 Rare or Mythic Rare) from the Commander Masters set
• Everything you need to play and more—Each deck also comes with a 2-card Collector Booster Sample Pack, 1 Foil-Etched Display Commander, 10 double-sided tokens, 1 Helper card, 1 life tracker, and 1 deck box

---