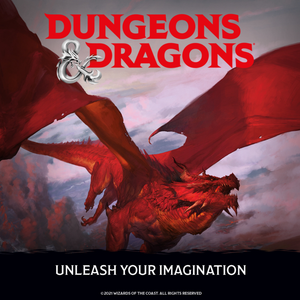 Estimated Arrival: Between Dec 03 and Dec 05. *ETA to USA Only
Join us for a week-long amazing adventure of Dungeons & Dragons! D&D is all the rage right now, and this is a perfect opportunity to learn how to play, create a character, and go on an adventure. This is also a great opportunity for camp attendees to take some time away from the screens and still have a lot of fun. We welcome new and experienced players to these sessions!
This is a perfect game session for players ages 9 - 13 (recommended). If we get enough campers and staff to support them, we will have two separate age groups. Keep in mind we will need at least three campers per age group to host the week-long D&D camp.
Please select an age group, we cannot guarantee players will stay in the same age group. It will be based on staffing, the number of players, and their ages.
Each camper will receive a Dungeons & Dragons Player's Handbook (valued at $49.95)! If you already have this book, you can choose from a select few other books (based on availability and style).
Things to keep in mind:
Liability Waiver: Parents will need to sign a liability waiver if they would like to leave their child here during the sessions.
Player Counts: We will require three players per campaign. If we do not have at least three players we cannot start the campaign. We will continue to communicate with you and inform you when we have enough players for the campaign. Our D&D for Kids sessions are limited to 5 players.
Age appropriateness: We keep our D&D campaigns for kids mild-mannered. However, please keep in mind there is fighting and sometimes violent encounters in the game: "Encounters often take the form of battles with "monsters" – a generic term used in D&D to describe potentially hostile beings such as animals, aberrant beings, or mythical creatures (Wikipedia)."
Three Strikes Rule: Players will have three strikes for following instructions of our staff. The first one is a warning, the second one is a chat with the parent/guardian and/or Dustin (store manager/owner), and the third one is a break from the store.
Keep in mind, whether you are a new or experienced player, we create our first character on day 1!
Other Important Info
This week-long camp will only run if there are enough campers to fill a campaign for each age group. In order to host the camp, we will need at least three campers signed up for each time slot. We will try our best to keep the same age groups together. However, we cannot promise age groups will work out perfectly. Some older players may join younger players and vice versa.
AM Schedule
8:50 - Drop-off begins
9:00 - Daily Check-Ins
9:15 - Adventuring Begins!
10:15 - Snack Time!
10:30 - Adventuring Continues!
12:00 - Camp Ends
12:10 - Last call for pick-ups!
PM Schedule
12:50 - Drop-off begins
1:00 - Daily Check-Ins
1:15 - Adventuring Begins!
2:15 - Snack Time!
2:30 - Adventuring Continues!
4:00 - Camp Ends
4:10 - Last call for pick-ups!
If you have any questions, feel free to reach out to us through email, phone, or by visiting our store!
Who are our DMs?
Max
With two years of experience using Dungeons and Dragons to teach creative writing, and just under 1/4 of his lifetime playing the game in general, Max will make sure that no matter what heroic D&D adventure your child will go on it will be one to remember. Be prepared to hear many stories back home of defeating the bad guys, sneak and intrigue, and many other heroic deeds of all kinds! There's adventure awaiting just on the horizon.
Todd
Todd has been running games of Dungeons and Dragons since 2010. Beginning their journey with D&D, Todd also enjoys Call of Cthulhu, Shadowrun, Fiasco, and other tabletop role playing games.Todd loves a good mystery, and their favorite part of running RPGs is giving players exactly what they asked for (typically in the most convoluted way possible.) Primarily serving as a Dungeon Master, when they aren't behind the screen, Todd loves playing out whatever hijinks a Warlock or Rogue can get themselves into.
---