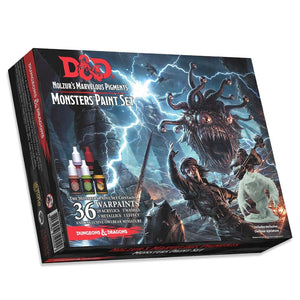 Estimated Arrival: Between Sep 30 and Oct 02. *ETA to USA Only
Nothing brings the Dungeons & Dragons™ world to life more than the creatures that inhabit it – and playing with painted miniatures, representing your mighty heroes or foul monster encounters, makes the adventure coming to life in front of you.
This official D&D™ set of Marvellous Pigments will offer you a perfect palette to painting the many and varied monsters from the Monster Manual™ and it comes with an exclusive Owlbear miniature to get you started.
The Army Painter Warpaints are a high quality acrylic paint range specifically designed for painting highly detailed miniatures. The paint has a creamy consistency and is extremely rich in pigment. It's 100% non-toxic and always delivers a perfect matte finish. The colour palette in this set has been carefully selected to represent the many creatures and monsters in the Dungeon & Dragons™ universe. The paint comes in 12ml dropper bottles, which enables you to administer the exact amounts of paint you need – and afterwards store them easily, so they do not dry out.
Contents:
36 water-based, non-toxic Warpaints (29 acrylic paints, 3 metallic paints, 3 washes and 1 effects paints)
D&D Owlbear Monster miniature
---