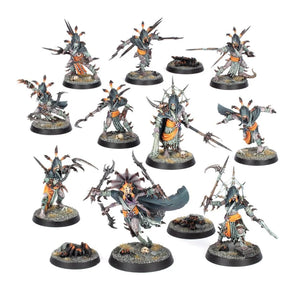 Estimated Arrival: Between Dec 12 and Dec 14. *ETA to USA Only
The Tarantulos Brood worships a dark power known as the Eightfold Watcher, and seek out mutagenic substances to uplift their mortal forms and grow ever-closer to the sacred shape of their spidery god. These strange and sinister warriors act as an eerie psychic gestalt, communing with the spiders they keep as livestock, and stalk the wilds in search of prisoners upon whom to experiment.

This multipart plastic kit builds a warband of the Tarantulos Brood – arachnoid mutants that can be fielded in Slaves to Darkness armies in Warhammer Age of Sigmar, or used as a complete warband in games of Warcry. Accompanied by a skittering tide of Spider Swarms, these spider-faced cultists wear ropes and hoods of woven silk, and can be armed with a variety of scythes, claws, flails, and accessories to skitter from the darkness and entangle their rivals.

This set contains 13 plastic miniatures:
- 1x Broodmaster
- 2x Doomweavers
- 3x Spider Swarms
- 7x Broodkin

This kit comprises 86 plastic components, and comes supplied with 10x Citadel 25mm Round Bases, 2x Citadel 28.5mm Round Bases, and 1x Citadel 32mm Round Base. These miniatures are supplied unpainted and require assembly – we recommend using Citadel Plastic Glue and Citadel Colour paints.

Rules for using the Tarantulos Brood in games of Warcry can be found in the Warcry: Compendium book and downloaded from the Warhammer Community website.

---