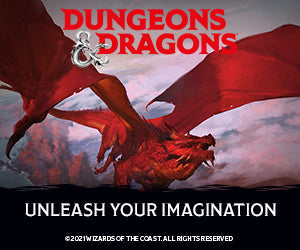 Estimated Arrival: Between Oct 05 and Oct 07. *ETA to USA Only
Do you and a group of friends want to get started playing D&D? Are you the one that has to rally the adventurers to get it going? Our Learn to DM for Beginners class is perfect for anyone looking to get started with D&D but isn't sure where to start. Get tips from an experienced DM and learn how to dive into the world of Dungeons & Dragons with a group of friends and adventurers!
This is part 2 of 3 in our Learn to DM course - your instructor will be covering more mechanical based aspects of DMing as opposed to just theory including - how to plan combat encounters, how to run combat encounters, and even how to add other elements like puzzles or traps to spice up combat for your group.
Please complete this survey before attending: https://forms.gle/WHmSo5NiUQx6Kf6R7
Time: 7:30 - 9:30
Date: Friday, Sept 23rd
Price: $14.99
Schedule:
7:30 - 8:20 First-half of session

8:20 - 8:30 Break
8:30 - 9:30 Second-half of session
Things to keep in mind:
Access to your phone or the Monster Manual will help with getting started with DM-ing the class - if you do not have access don't worry.
Please arrive with the things you would need to put a normal game of D&D such as something to write with and dice. If you prefer to roll digitally, that is also fine.
Be prepared to roll or bring your own level 1 sample character.
The exact content of this class will be determined by the teacher.
As a class attendee, you will receive 20% off select D&D products. This is a perfect time to pick up those books you'll need!
---