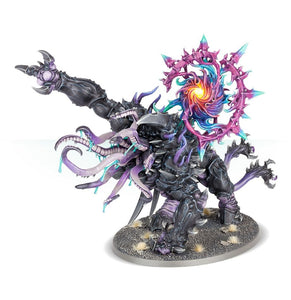 Estimated Arrival: Between Oct 05 and Oct 07. *ETA to USA Only
The Mutalith Vortex Beast is an offence against sanity and all natural order. Its constantly-shifting form drags in and expels the empyric energy of Chaos in a wild tempest that twists everything around it, flooding the world with the raw mutating power so beloved by the God of Change. Those foes not driven insane by the monster's mere presence are soon warped into fresh horrors by its foul energies.
This multipart plastic kit builds a Mutalith Vortex Beast – a grotesque creature with a star-like halo of raw Chaos energy suspended above its back. Nine huge tentacles extend from its gaping, eyeless mouth, each dripping with ichor, and even its two tails are tipped with hideous fanged mouths and lashing tongues. The beast's warped hide is studded with spikes, tendrils, and growths – its underbelly can feature prominent spikes or a pair of deformed secondary arms. The kit also includes two alternative heads with no tentacled maw – one leering face with horns and three tongues, and another with a grimacing maw and intimidating growths.
The Mutalith Vortex Beast can be used by Slaves to Darkness armies in Warhammer Age of Sigmar and Thousand Sons armies in Warhammer 40,000. It can alternatively be built as a Slaughterbrute, a furious beast bound by dark sorceries.
This kit comprises 78 plastic components, and is supplied with a Citadel 120x92mm Oval Base. This miniature is supplied unpainted and requires assembly – we recommend using Citadel Plastic Glue and Citadel Colour paints.
---