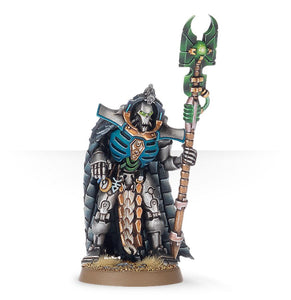 Estimated Arrival: Between Dec 03 and Dec 05. *ETA to USA Only
Trazyn the Infinite is a preserver of histories, artefacts and events. In his possession are technologies and relics that are so valuable as to be priceless. Amongst his collection are the fabled wraithbone choir of Altansar, the preserved head of Sebastian Thor, the ossified husk of an Enslaver and a giant man clad in baroque power armour. In such a dangerous galaxy, Trazyn is loath to go out and explore it himself, but with so many exquisite artefacts to see and catalogue, he cannot afford to miss out. As a result he will send out substitutes of himself to do his dirty work. On the battlefield this can become increasingly irritating, as killing what appears to be Trazyn may simply be a Lychguard or a Necron Lord. Meanwhile, somewhere nearby, the real Trazyn is busy smashing his way through his foes to get his metal hands on his latest acquisition.

This pack contains Trazyn the Infinite - a finely detailed resin cast kit that comes as three components, and is supplied with a 25mm Round Base. This miniature is supplied unpainted and requires assembly - we recommend using Citadel Super Glue and Citadel Paints.

---