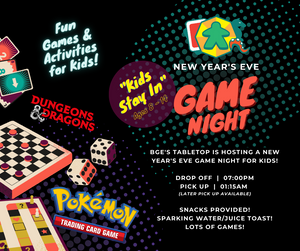 Estimated Arrival: Between Oct 06 and Oct 08. *ETA to USA Only
-- CANCELED --
We may try this again next year, but we did not have enough demand for it this year. If you were interested in attending this but missed out please let us know. Or if you were interested in this event, but did not end up signing up, please let us know why, so we can better prepare next year! Fill out this two-question survey.
Are you looking for a fun thing for your kids to do during New Year's Eve, so you can enjoy your night out? We're planning a night full of games and adventures at BGE's Tabletop.
Multi-kid Discount: 2 Kids from one family will receive a 15% discount and 3 kids or more from one family will receive a 20% discount. This discount will automatically apply at checkout.
Time: Drop-off begins at 7:00 pm and pick up ends at 1:15 am (late pick up available)
Ages: 8 - 14 (recommended)
Cost: $129 or $179 for "late pick up" between 1:15 and 2:00 am - pick up should be no later than 2:00 am
What does the schedule look like?
We will have a rotation of games to be played throughout the night. Our schedule will ultimately be decided based on the age groups that join us for the evening. Everyone will have a chance to sign-up for different games throughout the night including, Pokémon, Dungeons & Dragons, board games, and other fun big group games.
Snack
We will be providing two snack breaks throughout the night. Kids will have several options to choose from.
Midnight Countdown
We'll have our own midnight countdown with sparking water or sparkling juice!
Other Important Info
Liability Waiver: Parents will need to sign a liability waiver if they would like to leave their child here during the camp. Please be sure to drop off and pick up your child within the timeframe allowed.
Survey: We will also send out a survey that will need to be completed before the event.
If you have any questions, feel free to reach out to us through email, phone, or by visiting our store!
---