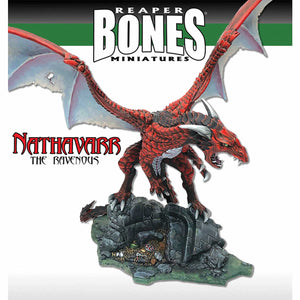 Estimated Arrival: Between Sep 24 and Sep 26. *ETA to USA Only
- This contains 1 miniature.
- 25mm (1/64) Heroic Scale Fantasy Miniatures
- Integral Bases
- Unpainted polymer models
- Miniatures are supplied unpainted and assembly may be required.
- Some filing may be needed to clean up excess flashing, or sprue.
- Bones polymer material reacts beautifully with cyanoacrylate adhesives.
- Out of the box, these incredible figures take paint without priming.
- Reapers Master Series Paints cover these models perfectly right out of the bottle
- Ideal for beginner through experienced modelers, painters, and hobbyists. Fantastic as an Art Piece, Gift, Family Project, Wargaming, or just for some fun.
- Reaper Miniatures are awesome in RPG and tabletop games like Pathfinder, Dungeons and Dragons (any edition), Dragon Age, Castles and Crusades, Hackmaster, Frostgrave, and Savage Worlds.
---