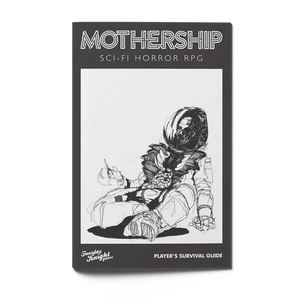 Estimated Arrival: Between Dec 14 and Dec 16. *ETA to USA Only
Join Dustin as he hosts a drop-in-drop-out campaign-style session of Mothership!
Mothership is a sci-fi horror roleplaying game where you and your crew try to survive in the most inhospitable environment in the universe: outer space! You'll excavate dangerous derelict spacecraft, explore strange unknown worlds, exterminate hostile alien life, and examine the horrors that encroach upon your every move.
The Campaign
The campaign will take place on Prospero's Dream-- a massive space station with a population of over 8 million. It's haphazard, disorganized, overcrowded, and teeming with hustlers and criminals of all stripes.
Everyone who participates in Mothership will need to complete a Lines, Veils, and Windows survey: https://forms.gle/4yWKWZJwwaDjWW289
Characters: You will make a character the first time you join for a session (or if your character dies). Character creation takes less than 5 - 10 minutes.
Join our Discord and discuss Mothership: https://discord.gg/ZJzt9wtQ
Ages: 13+ (this is a sci-fi horror with frightening themes and lore)
Price: $12
Time: These sessions will be on Friday nights (about 1 -2 times a month) from 7:00 - 9:30 PM
---