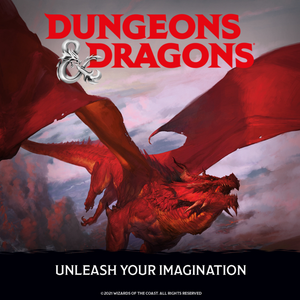 Estimated Arrival: Between Dec 14 and Dec 16. *ETA to USA Only
Adventure Awaits! Join Our Kids Dungeons & Dragons Session
🏰 Calling all young adventurers! Are you ready to embark on a magical journey full of mystery, monsters, and mayhem? Look no further because our Kids Dungeons & Dragons (D&D) Session is here to make your fantasies come to life!
🧙‍♂️ What is Dungeons & Dragons? Dungeons & Dragons is an exciting and imaginative tabletop role-playing game where you get to become the hero of your own story. It's all about teamwork, creativity, and endless possibilities.
Why Choose Our Kids D&D Session?
🎉 Perfect for Ages 8-15: Our sessions are tailored to young adventurers, making it the ideal starting point for beginners.
🧝‍♀️ Guided by Expert Dungeon Masters: Our experienced Dungeon Masters will guide you through the world of D&D and help you unleash your creativity.
🧚‍♂️ Building Friendships: Team up with other kids, solve puzzles, defeat monsters, and forge lasting friendships.
🏡 A World of Imagination: Dive into a world of magic, dragons, and endless adventures.
With a hectic schedule for the upcoming holidays and the short time between our last 5-campaigns and winter break, we will be running one-shot sessions. Unlike an ongoing campaign, these are stories that resolve within one session. Please keep in mind that during these sessions players will need to be flexible with their DMs and other players at the table. From one week to the other, there may be different players at the table and a different DM hosting the session.
We will also do our best to be sure players at the table are with players of the same age group. However, with the nature of scheduling during this time period, we also ask for your flexibility.
One-Off Sessions Schedule
Saturdays
November 11th at 1 pm or 3:45 pm
November 18th at 1 pm or 3:45 pm
November 25th at 1 pm or 3:45 pm
December 2nd at 1 pm or 3:45 pm
December 9th at 1 pm or 3:45 pm
December 16th at 1 pm or 3:45 pm
Sundays
November 26th at 11 am or 1:45 pm
December 3rd at 11 am or 1:45 pm

December 10th at 11 am or 1:45 pm
December 17th at 11 am or 1:45 pm
Things to Keep in Mind
Liability Waiver: Parents will need to sign a liability waiver if they would like to leave their child here during the sessions.
Group Sizes: Our ideal group size for our D&D Sessions is 5. We require at least 3 players to be able to run a 5-week campaign. If we have a request for a friend to join a group that would add a sixth player to the session, we talk this over with the DM first and then inform all parents/guardians about the addition.
Age appropriateness:

 

We keep our D&D campaigns for kids mild-mannered. However, please keep in mind there is fighting and sometimes violent encounters in the game: "Encounters often take the form of battles with "monsters" – a generic term used in D&D to describe potentially hostile beings such as animals, aberrant beings, or mythical creatures (Wikipedia)."

Age Groups: We tend to group our Kids' D&D Sessions based on age. This is more of a recommendation than a hard rule. We may have some overlap in age groups to fill space or to accommodate requests. Please keep this in mind as you sign up for sessions.

Player Groups: 

Our Kids D&D Sessions have really grown since we first opened! We want to do everything we can to accommodate players who want to play together. Usually, we can make that happen! However, this requires a bit of flexibility and scheduling compromises for everyone involved including DMs, parents/guardians, players, our store calendar, and our program coordinator. If you have any requests, please let us know and we will do our best to make it happen.

Three Strikes Rule: Players will have three strikes for following instructions from our staff. The first one is a 

warning

, the second one is a chat with the parent/guardian and/or Dustin (store manager/owner), and the third one is a break from the store.
Who are our DMs?
Matthew
Matthew J. Walsh is a professional DM and player with experience in leading teams through cooperative tabletop game experiences. With a background in art, theatre, and working with children, Matthew has shown an excellent balance of patience and experience to keep players captivated and excited. By capturing what makes tabletop games fun and exciting, Matthew allows his players to have agency and find creative solutions to fantasy troubles. 
Todd
Todd has been running games of Dungeons and Dragons since 2010. Beginning their journey with D&D, Todd also enjoys Call of Cthulhu, Shadowrun, Fiasco, and other tabletop role playing games.Todd loves a good mystery, and their favorite part of running RPGs is giving players exactly what they asked for (typically in the most convoluted way possible.) Primarily serving as a Dungeon Master, when they aren't behind the screen, Todd loves playing out whatever hijinks a Warlock or Rogue can get themselves into.
Terra
Terra has been working in child development for a decade. As a childcare professional, she has acted as a babysitter, tutor, coach, and afterschool on-site mentor. She's a huge TTRPG fan and has been playing D&D since middle school. With experience in debate and sports, she focuses on creating a positive social environment where kids can express themselves, have fun, and learn communication skills.
Dustin
Dustin is the owner of BGE's Tabletop and has been using game-based learning and gamification in his career as an educator from the very first year he stepped into a classroom in South Korea. Since then, creating engaging environments for learning and developing soft skills has become his passion-- hence the game store! He has been DM-ing for a couple of years and introduces new players to D&D every week!
---