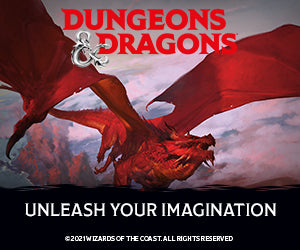 Estimated Arrival: Between Sep 24 and Sep 26. *ETA to USA Only
Do you and a group of friends want to get started playing D&D? Are you the one that has to rally the adventurers to get it going? Our Learn to DM for Beginners class is perfect for anyone looking to get started with D&D but isn't sure where to start. Get tips from an experienced DM and learn how to dive into the world of Dungeons & Dragons with a group of friends and adventurers!
Please complete this survey before attending: https://forms.gle/WHmSo5NiUQx6Kf6R7
Time: 7:30 - 9:30
Date: Friday, Sept 23rd
Price: $14.99
Schedule:
7:30 - 8:20 First-half of session

8:20 - 8:30 Break
8:30 - 9:30 Second-half of session
Things to keep in mind:
Access to your phone or the player's handbook will help with getting started with DM-ing
The exact content of this class will be determined by the teacher.
As a class attendee, you will receive 20% off select D&D products. This is a perfect time to pick up those books you'll need!
---