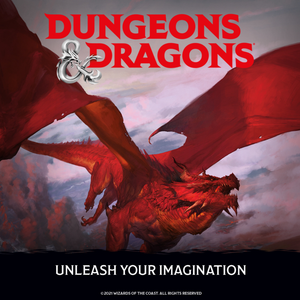 Estimated Arrival: Between Dec 14 and Dec 16. *ETA to USA Only
Join us for a week-long amazing adventure of Dungeons & Dragons! D&D is all the rage right now, and this is a perfect opportunity to learn how to play, create a character, and go on an adventure. This is also a great opportunity for camp attendees to take some time away from the screens and still have a lot of fun. We welcome new and experienced players to these sessions!
This is a perfect game session for players ages 9 - 15 (recommended). If we get enough campers and staff to support them, we will have two separate age groups. Keep in mind we will need at least three campers per age group to host the week-long D&D camp.
Please select an age group, we cannot guarantee players will stay in the same age group. It will be based on staffing, the number of players, and their ages.
Things to keep in mind:
Liability Waiver: Parents will need to sign a liability waiver if they would like to leave their child here during the sessions.
Group Sizes: Our ideal group size for our D&D Sessions is 5. We require at least 3 players to be able to run a 5-week campaign. If we have a request for a friend to join a group that would add a sixth player to the session, we talk this over with the DM first and then inform all parents/guardians about the addition.
Age appropriateness:

 

We keep our D&D campaigns for kids mild-mannered. However, please keep in mind there is fighting and sometimes violent encounters in the game: "Encounters often take the form of battles with "monsters" – a generic term used in D&D to describe potentially hostile beings such as animals, aberrant beings, or mythical creatures (Wikipedia)."

Age Groups: We tend to group our Kids' D&D Sessions based on age. This is more of a recommendation than a hard rule. We may have some overlap in age groups to fill space or to accommodate requests. Please keep this in mind as you sign up for sessions.

Player Groups: 

Our Kids D&D Sessions have really grown since we first opened! We want to do everything we can to accommodate players who want to play together. Usually, we can make that happen! However, this requires a bit of flexibility and scheduling compromises for everyone involved including DMs, parents/guardians, players, our store calendar, and our program coordinator. If you have any requests, please let us know and we will do our best to make it happen.

Three Strikes Rule: Players will have three strikes for following instructions from our staff. The first one is a 

warning

, the second one is a chat with the parent/guardian and/or Dustin (store manager/owner), and the third one is a break from the store.
Other Important Info
This week-long camp will only run if there are enough campers to fill a campaign for each age group. In order to host the camp, we will need at least three campers signed up for each time slot. We will try our best to keep the same age groups together. However, we cannot promise age groups will work out perfectly. Some older players may join younger players and vice versa.
AM Schedule
8:50 - Drop-off begins
9:00 - Daily Check-Ins
9:15 - Adventuring Begins!
10:15 - Snack Time!
10:30 - Adventuring Continues!
12:00 - Camp Ends
12:10 - Last call for pick-ups!
PM Schedule
12:50 - Drop-off begins
1:00 - Daily Check-Ins
1:15 - Adventuring Begins!
2:15 - Snack Time!
2:30 - Adventuring Continues!
4:00 - Camp Ends
4:10 - Last call for pick-ups!
If you have any questions, feel free to reach out to us through email, phone, or by visiting our store!
Who are our DMs?
Dustin (Back up DM)
Dustin is the owner of BGE's Tabletop and has been using game-based learning and gamification in his career as an educator from the very first year he stepped into a classroom in South Korea. Since then, creating engaging environments for learning and developing soft skills has become his passion-- hence the game store! He has been DM-ing for a couple of years and introduces new players to D&D every week!
Dustin will be DM-ing if we do not have enough DMs to host tables during winter camp.


---