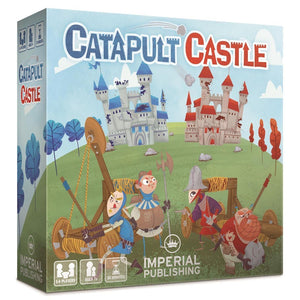 Estimated Arrival: Between Sep 29 and Oct 01. *ETA to USA Only
Other kingdoms have built their castles right next door... and is that one a little taller than yours? Better knock them down a peg! Whenever a tower crumbles, you will use the resulting debris to build a new one for yourself.
In Catapult Castle, you will take turns firing one shot with the catapult. If it goes in a tower, you claim that tower and add it to your player mat, and the person you took it from draws a card. This continues until all the ammo has been used, or one player has no more towers. Then the player with the most towers wins!
A fantastic game of destructive dexterity for all ages!
Players: 1 - 4
Ages: 7+
Time: 30 minutes
Contents:
1 Catapult
36 Catapult Ammo
32 Cards
16 Castle Towers
4 Player mats
---