BGE's Tabletop Games 2022 Holiday Buyer's Guide

Check out BGE's Holiday Buyer's Guide for Gift Ideas this Holiday Season!
You can click on any of the links below to take you to a specific Gift Guide Section, or you can scroll down and browse all of our sections!
The best gift to give to the local gamer? A gift card! You can purchase these online, or in our store. They can also be used to pay for our play space fees, tournament entry fees, and other classes, programs, or events we offer in the store! You can pick up a physical gift card in our store, purchase one digitally online, or visit us in the store and let us know how much store credit to add to your gamer's account!
Gift cards come in any denomination possible!
Games for the Young(est) Gamer -

 

HABA Games
Imported from Germany, HABA makes excellent games geared toward younger players. Their product line starts at games for ages 2 and goes all the way to family games that parents can enjoy too! Check out some of our suggestions below!
Animal Upon Animal: A Christmas Stacking Game
The animals are climbing all over each other to form an ever-taller Christmas pyramid. But which one will make it to the top? The players decide by carefully balancing squirrels, snow bunnies, penguins and reindeer on stars, fir trees, sleds, and even on top of each other. The first player to place all of his or her figures safely on the pyramid wins this wobbly Christmas stacking game. A wobbly Christmas-themed stacking game.

Players: 2 - 4
Time: 20 minutes
Age: 4+
For Kids Learning to Interact and Take Turns
My Very First Games: First Orchard ($29.99)
In this simple roll and pick game, players roll dice and pick fruit from the fruit trees. You have to be quick though because the raven is trying to eat all the fruit. This game is perfect for practicing matching and learning to take turns.
Check out this review from a previous BGE customer: 
"First Orchard was the very first board game we bought our daughter years ago and it is still our top choice for kids aged 2-4. This cooperative game works beautifully as your child's first introduction to board games..."
Mixing kinesthetic (hands-on) learning at an early age is great for helping with developing hand-eye coordination and puzzle solving.
Check out some wooden alphabet puzzles from BeginAgain:
Siblings Working Together! - Unlock! Kids
Adapted from the hit Unlock! series of games, Unlock! Kids invites young players and their families to test their mental fortitude and problem-solving skills in a set of escape games adapted from other Unlock! adventures.
Peaceable Kingdom
Peaceable Kingdom makes some other great cooperative games including The Fairy Game and Mermaid Island. 
Super Heroes
There are loads of super hero-themed games out there for this age group. Check out some of our recommendations!
Pokémon is very popular among this age group! You can get some single packs, pick up an Elite Trainer Box, or any of our other speciality Pokémon boxes. And if you're looking for the best bang for your buck when it comes to packs. Picking up a booster box is usually the best route to take!
Fun and Quirky Card Games
Rainbow Rabbits is fast and fun 2-4 player card game. The concept is simple: build rainbows as a team and be the first to play all of your cards to win.
Kids love it. Adults love it. Kids love always winning against the adults. Adults don't love that part as much, but they get determined to try and win at least once. We haven't seen that happen yet, but anything is possible.
Dungeons & Dragons
Dungeons & Dragons is all the rage during this time! If you have an adventurous person in your life around this age, the Dungeons & Dragons Starter Set may be the perfect gift for them. This will open a whole new world of adventure, creativity, storytelling, reading, and problem-solving!
There are two start sets and you can't go wrong choosing either one!
Check out our selection of great games for families!
These games make for excellent gifts and games to play during the holidays. They can be played young and old!
TELL HERSTORY: You're an acclaimed author, writing a book to tell the stories of remarkable women in history. Discover iconic historical women as you do research, draft chapters, and complete the highest scoring book to win!
Become the next Master Summoner in this Disney-themed strategic battle arena game, where every choice you make determines your legacy! Recruit a fantastical battle-ready roster of Disney and Pixar heroes and villains, creating incredible combinations that provide endless replayability. Once you've summoned your characters to battle in the Sorcerer's Arena, strategize their every move using their unique abilities to earn the most victory points. Learn as you go in this expandable tabletop game inspired by the popular mobile game, overpowering your foes to win the ultimate Disney and Pixar battle royale!

Players: 2 - 4
Ages: 13+
Time: 35+ minutes
These are Asmodee's best-selling board games from the last year. The top 40 best-selling board games from one of the biggest board game companies in the hobby.
A selection of great games to play at family gatherings!
Below is a great selection of games that you can bust out at your family gatherings during the holiday season! They are great party games and can support more than 6 players!
In Werewords Deluxe Edition, players guess a word by asking "yes" or "no" questions. Figure out the magic word before time is up, and you win! However, one of the players is secretly a werewolf who is not only working against you, but also knows the magic word. If you don't guess the word in time, you can still win by identifying the werewolf! To help you out, one player is the Seer, who knows the word, but has to be careful while helping you. If you guess the word, the werewolf can pull out a win by identifying the Seer!
Poetry for Neanderthals is a family-friendly party game similar to Taboo where players earn points by getting their teammates to guess words and phrases. The catch is that the `Neanderthal Poets` are only allowed to use single syllable words. If they use any words with more than one syllable, the other team gets to bop them with a 2-foot inflatable club. The team with the most points wins!
Letter Jam is a 2-6 player cooperative word game, where players assist each other in composing meaningful words from letters around the table. The trick is holding the letter card so that it's only visible to other players and not to yourself.

At the start of the game, each player receives a set of face-down letter cards that can be rearranged to form an existing word. The setup can be prepared by using a special card scanning app, or by players selecting words for each other. Each player then puts their first card in their stand to face the other players without looking at it, and the game begins.

The game is played in turns. Each turn, players simultaneously search other players' letters to see what words they can spell out (telling the others the length of the word they can make up). The player who offers the longest word can then be chosen as the clue giver.

The clue giver spells out their clue by putting numbered tokens in front of the other players. Number one goes to the player whose letter comes first in the clue, number two to the second letter etc. They can always use a wild card which can be any letter, but they cannot tell others which letter it represents.

Each player with a numbered token (or tokens) in front of them then tries to figure out what their letter is. If they do, they place the card face down before revealing the next letter. At the end of the game, players can then rearrange the cards to try to form an existing word. All players then reveal their cards to see if they were successful or not. The more players that have an existing word in front of them, the bigger their common success is.

Players: 2 - 6
Ages: 8+
Time: 30-60 minutes
Toy Story: Obstacles and Adventures
For the Pixar fans in your family. Toy Story: Obstacles and Adventures lets you put on your favorite Star Command spacesuit or your best rootin'-tootin' sheriff badge and join the likes of Buzz and Woody on six fun-filled adventures! This is a cooperative deck-building game, meaning players will work together to build unique card combinations to play with. Join some toy friends from all four major films to strategize against dangers and hazards that are trying to keep you from victory!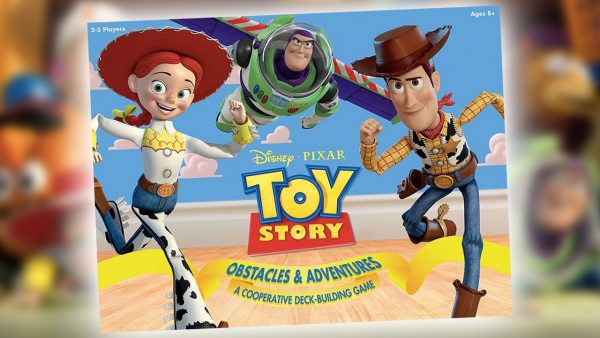 Players: 2 - 5
Ages: 8+
Time: 30-90 minutes
Disney Villainous
Take on the role of your favorite Disney Villain and learn your own devious way to win the game. From Captain Hook to the Queen of Hearts, discover your own unique abilities while simultaneously trying to thwart your opponents' schemes. Play this game on its own or mix & match with other Disney Villainous titles! Bring in the green, the red, the purple, or the orange boxes to play and add more villains to your fingertips. Choose your villain wisely and find out who will triumph over the forces of good to win it all!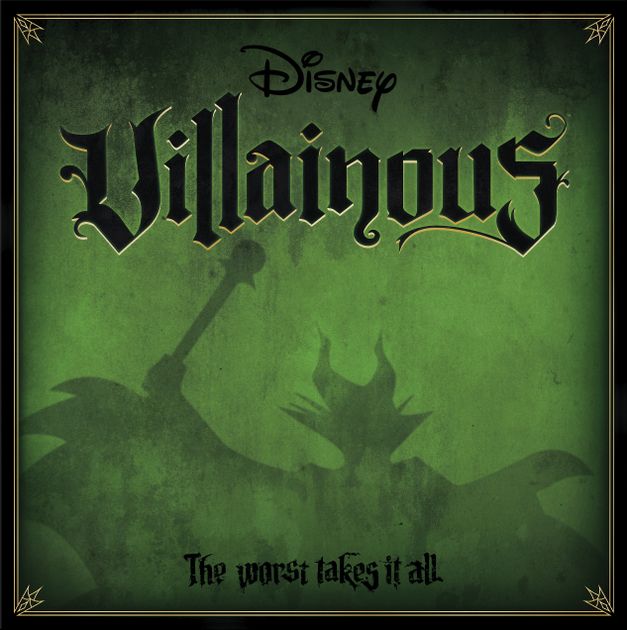 Players: 2 - 6
Ages: 10+
Time: 40 - 120 minutes
ANKH: Gods of Egypt
In ANKH: Gods of Egypt, take control of one of the legendary Gods of Egypt, each with unique game-changing powers, and lead your devotees in an epic conflict for eternal life. Shape land, build monuments, gain followers, unlock Ankh powers, and fight with legendary Guardians. Vie for power as soon-forgotten gods wage bloody war for control of the land and the people's devotions. Only one god will emerge triumphant in the new age of monotheism. Who will it be?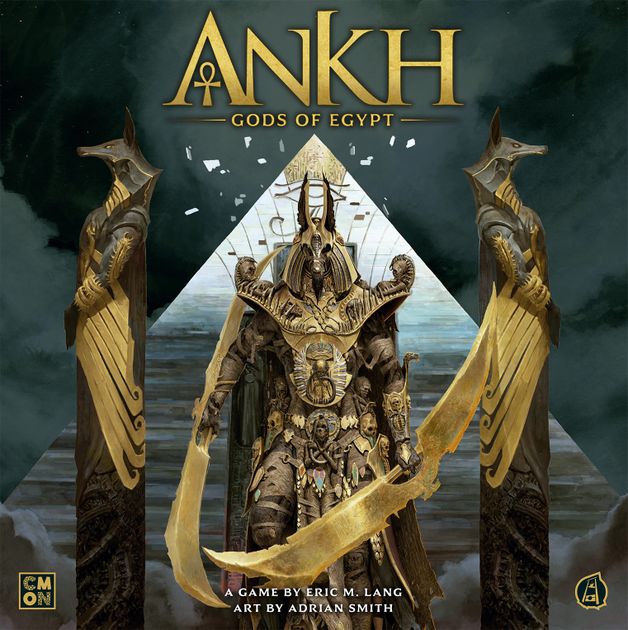 Players: 2 - 5
Ages: 14+
Time: 90 minutes
Mansions of Madness
Great for fans of Cthulhu and Lovecraftian macabre, Mansions of Madness is a fully cooperative board game of horror and discovery for one to five players. Players take the part of investigators, entering the darkened rooms of haunted Arkham mansions and other sinister locales to discover strange secrets, solve cunning puzzles, and battle otherworldly dangers. Includes 32 plastic figures and a free companion app!
Players: 1 - 5
Ages: 14+
Time: 2 - 3 hours
Scythe
In Scythe, five factions compete for dominance in a dieselpunk, alternate timeline of pre-World War Europe. There is a heavy emphasis on the lack of luck involved in this game. Instead, players' choices and decisions are at the forefront of every turn. There is no player-killing or unit-killing, only engine-building and area of control. No rounds or phases, only stream-lined turns. Be warned! This game has some (literal!) weight to it.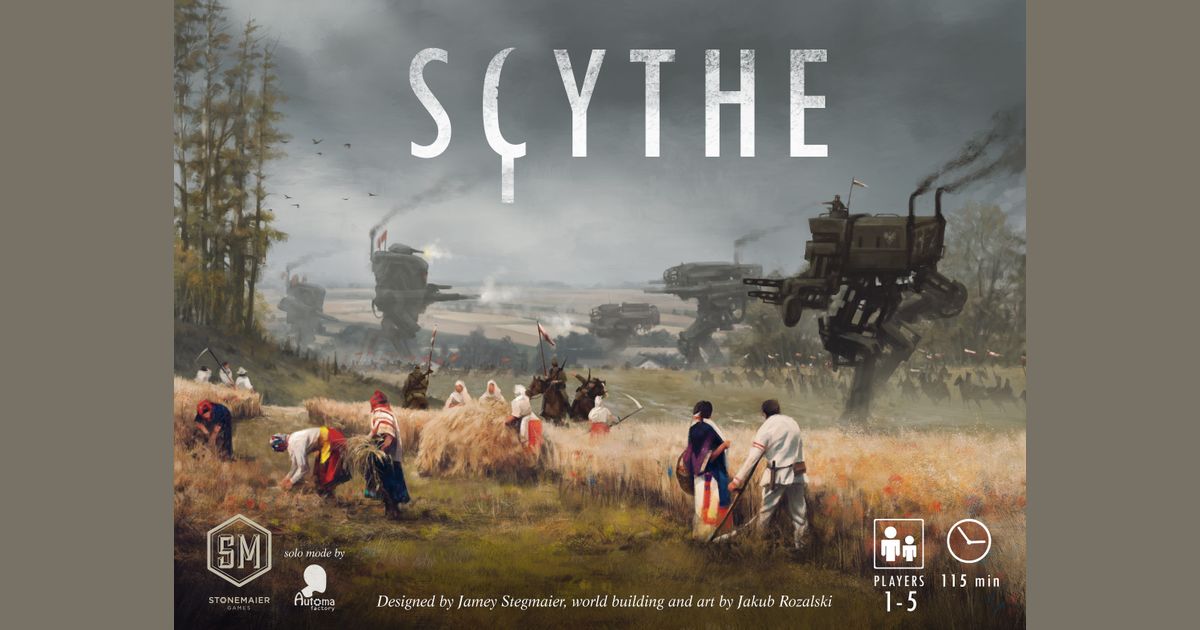 Players: 1 - 5
Ages: 14+
Time: 115 minutes
Jumpstart - for the Beginners and Veterans Alike!
Jumpstart is an incredible way to get new players into the game on top of being fun in general for established players. Jumpstart: Dominaria United and Brother's War have less variety and so are more for two new players to learn together, whereas Jumpstart 2022 has enough variety and valuable reprints to make for an engaging experience for new and old players alike. All you need is 2 packs per player to have a great time, but if you really want a great experience you can buy a box of Jumpstart 2022 and sort the packs into bags or resealable plastic containers and keep playing forever. Check out the different options below. Any set makes a perfect gift!
Jumpstart 2022 Box - Endless Fun and Combinations (interested in this product? send us a message)
Magic: The Gathering Commander!
Commander is a very popular format nowadays, and we run Commander nights on Wednesdays. If you're new to the format, the starter decks are an affordable way to get into the game!
Bling Out Their Collection with Some Sleeves and Deck Boxes
A Magic player can never have enough sleeves and deckboxes. We always recommend Dragon Shield Mattes, available in a rainbow of colors, and Dragon Shield inner sleeves for the especially valuable cards you want safe from water damage and scraping against the top of the card. For deckboxes, the universally beloved Gamegenic Squire offers a convenient and high quality box with no annoying flaps to take up space on your table.
Check out our Dragon Shield sleeve options.
Check out our deck box options!
Finally, why not consider a gift card? A gift card can pay for singles that the player wants without you needing to know their exact tastes, or even pay for entrance into one of our drafts (nearly) every Friday night!
Wanderhome - Pastoral Animal Fantasy
Wanderhome is an absolutely incredible tabletop RPG with minimal rules, no dice, and options for no GM. Players become wandering animal people in a pastoral fantasy world that's at once bright and cheery but also mournful and looking to move on from a past tragedy. This game is incredible for exploring themes of home, connection, and redemption. If you want help creating your Wanderhome world, consider picking up...
The Quiet Year as well! This cooperative game tasks your whole playgroup with creating a world carving out itself from a hostile outside disaster, where it's up to your group to make decisions and improvise characters that can later become key figures in your game proper. Not just for Wanderhome, The Quiet Year can be a great way for DMs to allow players to be directly involved in the creation of a Dungeons and Dragons campaign's world!
BGE's Tabletop has a solid selection of indie tabletop roleplaying games. Be sure to check out website or stop in the store for a great selection!
If you have a D&D Player in your life, there are some excellent gifts for them. D&D players could always use more dice, so be sure to check out our dice section. Also, D&D players love things that help them organize, so check out our RPG Player Companions. And, wait, there's more! Is the D&D Player in your life the DM (Dungeon Master), well then, the list of things you can pick up for them is seemingly endless. Check out our DM's section below!
DM's Section
These boxes are incredible for DMs, giving 4 premium painted monsters from all across D&D's monster catalogues. Not sure what encounter to throw at your players? Pick up a box or two, and let your imagination run wild with the figures you get! Having models that accurately reflect the monsters your players encounter is incredible for immersion and fun.
Check out all of our dice offerings! From plastic dice to resin dice to metal dice to d100s!
Warhammer can be a daunting hobby to get into, but it doesn't need to be! Ultimately, there are three things you need: Models, tools to put them together, and tools to paint them. Luckily, we have all three!
Models
This is heavily up to personal preference. There are a huge amount of factions across both the gothic sci-fi 40k and the fantasy Age of Sigmar, each with dozens of models. A gift card is probably the best option if you don't know exactly what your giftee likes. Always remember that we're able to order items we don't currently have in stock! If you're shopping for yourself, or know your giftee is new but prefers a specific faction, the Start Collecting, Vanguard, and Battleforce boxes offer a significant discount on over a dozen minis each. Feel free to ask Elizabeth, either in the Discord or over email, what faction or box would be best!
Models Supplies
The three things you need are a hobby knife, clippers, and plastic glue. Plastic glue is the easiest: We have Citadel plastic glue here. A hobby knife can be picked up fairly cheaply from most hobby stores. (Or, let's be honest, Amazon.) You use this to shave down the plastic nubs that appear on the parts where they were connected to the sprue. The clippers have a few different options. Adam Savage has said, paraphrasing: "Don't buy the most expensive tool first, buy the cheapest tool and upgrade when you need/want to." We have Citadel Super-Fine Detail Cutters, and they go through plastic like butter, but they're a premium. We also have our Classic Fine Detail Cutters. If it's your first time assembling minis, it may be wise to start out with under 5 dollar wire cutters. If you're looking to treat yourself, and want the great experience of cutting through plastic like it's nothing, grab the Citadel cutters.
Painting
Now that your models are assembled, it's time to paint them! Step one is to prime them; if you want more vibrant colors, use Citadel White Scar, and if you want more muted colors, use Chaos Black.
If you're new to painting, I'd highly recommend the Contrast paints. You can either grab your favorite colors, or our Army Speedpaint collection for the whole rainbow. These paints are great because in just one coat they give a solid color all around the parts you painted. They additionally form a pool in the crevasses to add shadow and depth.