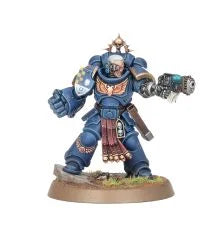 Estimated Arrival: Between Dec 14 and Dec 16. *ETA to USA Only
Space Marine Lieutenants are experienced tacticians, keen strategists, and highly skilled warriors. Experts in all the lethal weaponry of the Space Marines, they bellow orders and coordinate their brothers' attacks even as they strike at the foe with their own arsenal of powerful weapons.

This multipart plastic kit builds one Space Marine Lieutenant, a trusted officer of his Chapter's ranks. He comes with multiple weapon options – his left hand grips a heavy bolt pistol, a plasma pistol, or a master-crafted bolt weapon for shooting at a distance, while his right arm can wield a power sword, a power fist, or gesture toward a tactical goal.

You'll also find a variety of cosmetic options to personalise your Lieutenants so they really stand out on the tabletop, including a bare head or helmet, different bolt weapon configurations, a sheathe for his sword, and a choice of loincloth designs.

This kit contains 25 plastic components, and 1x Citadel 40mm Round Base. This miniature is supplied unpainted and requires assembly – we recommend using Citadel Plastic Glue and Citadel Colour paints.

---